DIY (Do It Yourself) er lige nu på alle blogs, og derfor selvfølgelig også på min! Jeg er ikke super fingernem (læs, tålmodig...) derfor har jeg ledt grundigt efter noget der trods alt kan inspirere til at kaste mig over DIY...
//DIY is everywhere and therefor also on my blog. I am not very creative (some call it patient...) so i have found some DIY ideas which looks so easy that i might also be able to do it...
Kristina Dam er dygtig, ingen tvivl om det. Og dette værk er ingen undtagelse. Find nogle ruller farvet wasi tape, palietter, en fin baggrund evt fra et magasin eller katalog og du er godt på vej!
Alt for damerne
havde for noget tid siden en lille guide til hvordan du selv kan lave kunst til dine vægge. Det lyder meget nemt, og skal bestemt afprøves en dag hvor der er god tid.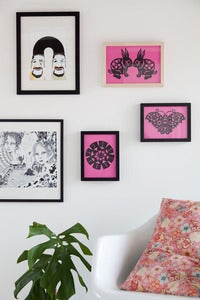 Lisa Grue
og magasinet "Boligliv" har været så venlig at lave nogle DIY templates der blot skal printes ud. Vælg din yndlingsfarve som baggrund ved at bruge farvet papir. Nemt!