Jeg har fundet SÅ mange lækre illustationer med Sailor motiver på det sidste, og hvor er de bare fantastiske... Kan kun sige Ship Ohøj...
//Lately i have found so many nice Sailor illustrations and i love it... All i can say is Allll on board...
The Sailor Family fra svenske
signerat.se
Den sejeste måge og de flotteste sømænd/havfrue-mænd... Af Wayne Pate for Elphicks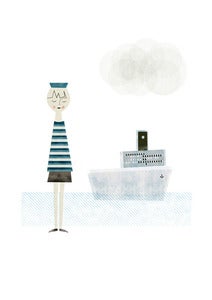 Dygtige Blanca Gomez har et enkelt, men stærkt udtryk. Så flot! Find den og mange andre fra hende
her...